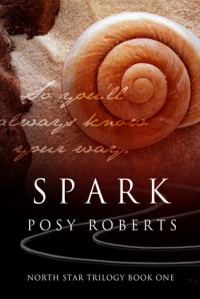 This book made me happy in ways I can't really explain. I won't even try.
You may have seen me gushing over the book Private Display of Affection, by Winter Sandberg the other day—well, this is that same book, but for adults. It is also powered by including an interwoven future storyline with the men all grown up, where the boys used to linger. I love that you can write the same story twice, and tweak it for different reader groups—Ms Sandberg writes for young adults, and Ms Roberts for adults. Of course, they are the same person, albeit not the same persona.
It is an absolutely beautiful story, well worth reading in both incarnations, and I don't know if it was better to have read PDA first, or not, but it sure made the story itself better. (There were, of course, parts that I could skim a little bit, where the storyline was the same in both books, but the parts that are unique to this book, were just that. Unique).
I love the voice, the acceptance of who you are. I love how there are people who love each other totally without considering gender. I love the friendship, and the love that it entails.
Love is love.
Now, I have realized that this is a three-book series. Brilliant, and for once I am happy to say I walked in on book #1. (Twice, as it were).
What I really like? That fact that so far, both books ended on a happy note after a full story arc—there are no cliffhangers, as they are actually completely standalone. I really appreciate that, as I am getting more and more wary of the tricks the publishing arena uses to get me to buy the next book, and the next. Thank you for giving me a full story.
There are no tricks here, just three-hundred pages of beautifully written prose. And so much love.
And yes, I am sure I want to read more about these men. I can't wait to get my hands on the next book in the series.
***
I was given a free copy of this book by the publisher, Dreamspinner Press, and a positive review wasn't promised in return.
The author is a Twitter friend, but she knows that I review with my own head, and not through friendship-filters.